In 1990, a couple parked next to the chip shop opposite to buy their supper. Arriving back in the car they seem to have had an argument of such ferocity that they revered their car straight back over the road and into the cemetery wall.
A Council drawing shows the damage: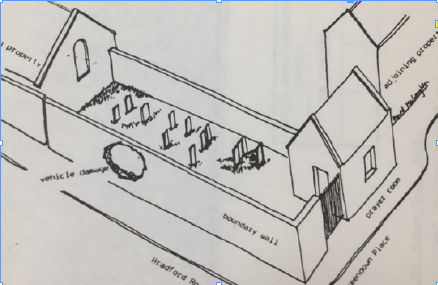 After some dispute involving uninsured events, the wall was repaired by the Council, but their contractor did not follow the specification laid down, and then went out of business before the work could be remedied.
All the walls are now badly in need of repair, and are a major concern to the Friends. Not only are they fragile, but on the street side, still after 30 years protected from failing pointing only by the temporary chickenwire, a hazard to pedestrians.
But the cost of repair is several thousand pounds, per side, and we do not have such funds nor know where they can be obtained from.