All of the people buried here come from refugee backgrounds.
The thought that they all were first generation refugees or the children of refugees is profound and reveals the continuous persecution of Jews and flow of refugees across Europe.
We cannot always identify the precise origins of the people buried here - records no longer exist and borders change, so a census record may say Prussia or Russia but that has no precise meaning and may not be accurate.
However, we have decided to place a symbol on a selection of graves for our Open Day, to highlight the life stories of some of the refugees buried here.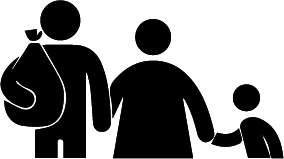 By 1800 the Jewish population of Britain was about 25,000 of whom 20,000 were in London. The rest were living in towns offering commercial opportunities, and in the seaports.
Bath in its heyday attracted Jewish visitors coming to enjoy fashionable society and others came to take the cure that the thermal waters offered. Catherine de Costa, a Sephardic Jew whose family had been expelled from Spain, is the first known Jewish visitor to Bath in 1734. Over the next few decades many leading Sephardim are subscribers to Bath General Hospital and attended the spas for both their health and social aspirations.
From about 1780s, Ashkenasi Jews from Eastern Europe also began to arrive in Bath and a small community of dentists, opticians, chiropodists, greengrocers, and jewellers arrived to serve Bath's well off visitors.
Among there were Joseph Sigmund, a refugee from a civil war in the Kingdom of Poland and Lithuania who arrived in Exeter in 1780, and Abraham and Daniel Rees also fleeing from Poland, who arrived in London in the 1790s, and Solomon Wolfe who was was living in Bath by 1816.
Refugees such as Nathan and Hannah Jacobs and Francis Herman, continued to arrive throughout the 1800s. A few, such as Samuel Jacobs, were born in London in the early 1800s to refugee parents.In the 1880s there were three large waves of Jewish refugees: the first was a response to the programs of 1881-2 in Russia following the assassination of tsar Alexander II; the second resulted from the expulsion of Poles from Prussia in 1886; the third was triggered by expulsions from Moscow and Kiev in 1890-1. Mainly they came without passports, to escape poverty, military service and violence. They were often unskilled and poor. All sought a better life for themselves and their families.
Between 1880 and 1914, two million Jews made their way to the USA, Canada, the Argentine, France, South Africa and the UK. 100,000 travelled by weekly steamer from Rotterdam, Hamburg and Bremen to the English ports of Hull, Grimsby and onwards.

About 140,000 of these refugees (7%) remained in Britain supported by the existing Jewish community. So for example, Josef Kessef, our last dated headstone, was fleeing a program in eastern Europe and was living in Whitechapel by 1891.